A homage to the most iconic building in Venezia: Palazzo Ducale, the medieval Doge's palace with its unique pixelated marble facade and geometrical patterns designed through the different colors of marble.
The cabinet represents one of the geometrical rhomboids modules of the facade and sits on a corner unlike most cabinets. Its stability is provided by a large metal base that supports it and keeps it balanced.
The openings are multiple and hidden by the interlocking tesserae which compose the front mosaic.
The internal storage space is vast and suitable for a credenza or bar cabinet.
The cabinet is available in different finishes : real stone, wood or metal.
The piece can also be hanged on the wall and the base can be removed.
Collection: De-architectura
Date: 2023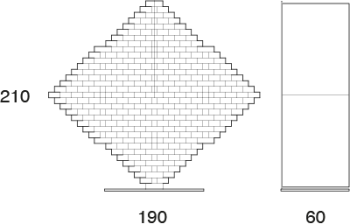 Cabinet with mosaic facade, structure in wood, front in stone, metal or wood.
Dimension : 190x60x210cm
Weight : 150kg
Ref : *