A theatrical feature. Sipario – curtain is a poetic representation of the theatre world. Two metal curtains interconnected between themselves can slide sideways just like on a stage, unveiling a precious bar cabinet.
The elegant folds of the fabric-like outer skin have a distinct sinuosity which blends with the rigid volume of the cabinet. When opened, the doors make the facade look wider just like in a magic trick
The cabinet structure is in wood and the folded skin is in metal.
Collection: De-architectura
Date: 2023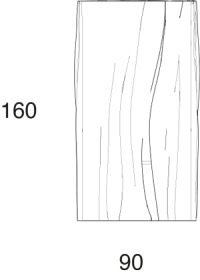 Cabinet with sliding front doors, structure in wood, front in metal or woo.
Dimension : 90x60x160cm
Weight : 150kg
Ref : *