The Ciclopi where the mythical creatures of latin and greek stories that could be described as giants.
They were thought to be the authors of prehistorical and very old stone structures in Greece and central Italy. Just like central American civilizations, the archaeological ruins are characterized by the perfect interlockings of massive stone blocks.
Ciclopi cabinet has the same massive appearance of these structures. Asymmetrical yet perfectly balanced and squared in its components.
A wooden structure lined in metal based paint, gold leaf or brass sheets.
Every opening is different from the others. An object to discover like a contemporary ruin.
Collection: De-architectura
Date: 2023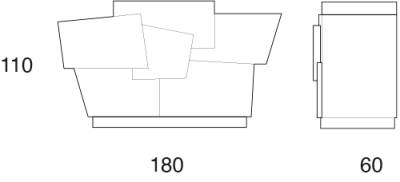 Cabinet with different storage and openings, drawers and doors. Wood and metal base paint/ metal sheets.
Dimension : 180x60x110cm
Weight : 140kg
Ref : *